Tournament Equipment Rental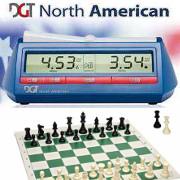 Tournament Chess Equipment Rental Service in BC Canada
Chess2Inspire provides chess equipment rental service to event organizers in BC Canada at an affordable rate. Rental revenue is for covering storage, transportation and maintenance costs. Each rental includes up to 100 weighted chess sets (with extra queens), boards and DGT North American Chess Clocks (up to 200 players). All rentals subject to approval by Chess2Inspire Association. Contact us at tournaments@chess2inspire.org.
This service is a collaboration between Chess2Inspire and Victoria Chess. We sincerely thank Victoria Chess for their generous sponsorship in making this service possible.
Tournaments Sponsored & Supported
Chess2Inspire is the equipment provider of:
2016 - 4 tournaments

2017 - 8 tournaments

2018 Chess2Inspire Junior Chess Championship

2018 BC Open

2018 Kiwanis Beginners Scholastic Tournament

2018

BC Youth Chess Championship (BCYCC)

2018 Intermat

BC vs Washington

(sponsor)

2018 Keres Memorial

2018 Semiahmoo Open

2018 BC Junior Chess Championship (BCJCC)

2018 New West Open

2018 BC Closed (sponsor)

2018 BC Women Championship (sponsor)

2019 BC Open

2019 Kiwanis Beginners Scholastic Tournament

2019

BC Youth Chess Championship (BCYCC)

2019

Keres Memorial

2019 New West Summer Open

2019 New West Fall Open

2019 BC Closed (sponsor)

2019

BC Junior Chess Championship (BCJCC)
Rental Rate
Rental rate includes delivery and pickup in the following cities - Burnaby, Coquitlam, Delta, Ladner, Langley, New Westminster, North Vancouver, Port Coquitlam, Richmond, Surrey, Tsawwassen, Vancouver, West Vancouver & White Rock. Please contact us for other locations in BC.
Batteries for chess clocks are included and checked before delivery but Chess2Inspire cannot guarantee the battery level or condition, please prepare backup AA batteries. PDF and/or hard copy manual in English and French will be provided upon request.
Sets & Clocks
Single Day
2-4 Days*
Quantity

50

75

100

50

75

100

BCCF Tournaments,
Registered Non-profit Organizations

$180

$240

$300

$250

$325

$400

Other Organizations

$250

$325

$400

$300

$400

$500
Skittles Chess Sets (Blue & Yellow) and board: $20 per 10 sets.
Board number with tent (up to 100): $15.
* Please contact us for rentals more than 4 days
Rental Terms and Conditions:
Chess2Inspire Association (the OWNER) makes no warranty of any kind regarding the rented equipment, except that OWNER shall replace the equipment with identical or similar equipment if the equipment fails to operate in accordance with the manufacturer's specifications and operation instructions.

Rental chess equipment, other than skittles chess sets, cannot be use for chess games less than G30 (30 minutes per side or equivalent). A surcharge of $500 will be enforced if violated.

Request for rental must be received 14 days before the start date of tournament.

Rental charge must be paid in full in cash or by cheque on or before delivery.

No allowance will be made for any rented equipment or portion thereof which is claimed not to have been used. Acceptance of returned equipment by OWNER does not constitute a waiver of any of the rights OWNER has under the rental agreement.

The RENTER shall allow the OWNER's personnel to enter RENTER's premises where the rented equipment is stored or used at all reasonable times to locate and inspect the state and condition of the rented equipment.

The RENTER indemnifies and holds the OWNER harmless for all injuries or damage of any kind for repossession and for all consequential and special damages for any claimed breach of warranty.

The RENTER shall pay all reasonable attorney and other fees, the expenses and costs incurred by the OWNER in protection its rights under this rental agreement and for any action taken the OWNER to collect any amounts due the OWNER under this rental agreement.

The RENTER shall pay the OWNER full compensation* for replacement of any equipment which is lost or stolen or any equipment which is damaged, normal wear and tear excepted. The OWNER's invoice for replacement is conclusive as to the amount RENTER shall pay under this paragraph for replacement and shall be paid in full within 30 days after issued.

The RENTER shall only use the chess equipment for games with time control more than 30 minutes each side.

The OWNER reserves the right to decline any rental request.

The OWNER reserves the right to update or amend these Terms and Conditions at any time without prior notice.

There will be an interest charge of 2% per month for all overdue payments.
* Compensation for equipment replacement is listed here for reference only and may change without notice - $25 per chess set/board, $75 per clock, $100 per transportation case.
Chess2Insprie may sponsor the chess equipment for non-profit free tournaments, free school tournaments and other tournaments with approval, please contact us for details.