Free Kiwanis Beginners Chess Tournament 2015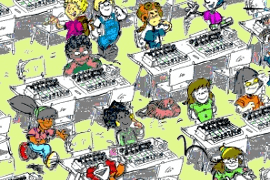 K-12 Scholastic Chess Tournament
Results
Standings. 2015 Kiwanis Scholastic Tournament: Grade K to 1 
 
 
 
 
 
 
 
#
Name
Grd
Rd 1
Rd 2
Rd 3
Rd 4
Rd 5
Tot
TBrk[H]
TBrk[C]
TBrk[P]
Result
1
Patrick Wang
1
W13
W3
W4
W2
W6
5.0
100
15.0
299.5
Grade 1 - 1st
2
Ethan Song
K
B---
W8
W11
L1
W4
4.0
100
12.0
245.0
Kindergarten - 1st
3
Alex Chen
1
W10
L1
W7
W5
W8
4.0
100
11.0
142.5
Grade 1 - 2nd
4
Oscar Baker
K
W6
W9
L1
W8
L2
3.0
100
11.0
277.5
Kindergarten - 2nd
5
Norman Hui
K
D7
W10
D6
L3
W12
3.0
100
9.0
127.0
Kindergarten - 3rd
6
Jake Louie
1
L4
W12
D5
W11
L1
2.5
100
7.5
196.5
Grade 1 - 3rd
7
Philip Zhang
K
D5
D11
L3
X13
D9
2.5
100
6.0
119.5
Kindergarten - 4th
8
Andrew Chen
1
W12
L2
W10
L4
L3
2.0
100
8.0
252.0
 
9
William Dolphin
1
L11
L4
B---
D12
D7
2.0
100
3.5
86.5
 
10
Jake McAdam
1
L3
L5
L8
B---
W11
2.0
99
2.0
138.5
 
11
Ian Weng
1
W9
D7
L2
L6
L10
1.5
100
7.0
151.0
 
12
Matthew McAdam
1
L8
L6
W13
D9
L5
1.5
100
4.0
79.0
 
13
Aanya Dau
1
L1
B---
L12
F7
U---
1.0
100
3.0
278.5
 
 
 
 
 
 
 
 
 
 
 
 
 
 
 
 
 
 
 
 
 
 
 
 
 
 
 
Standings. 2015 Kiwanis Scholastic Tournament: Grade 2 
 
 
 
 
 
 
 
 
#
Name
Grd
Rd 1
Rd 2
Rd 3
Rd 4
Rd 5
Tot
TBrk[H]
TBrk[C]
TBrk[P]
Result
1
Gideon Tang
2
W8
W7
W3
W2
D4
4.5
100
14.5
397.0
Grade 2 - 1st
2
Liam Fergusson
2
W14
W4
W5
L1
W3
4.0
100
13.0
395.5
Grade 2 - 2nd
3
Daniel Wu
2
W9
W11
L1
W5
L2
3.0
100
11.0
459.5
Grade 2 - 3rd
4
Yue [Rain] Zhong
2
W6
L2
D9
W12
D1
3.0
100
9.0
465.5
 
5
Hudson Baker
2
B---
W13
L2
L3
W7
3.0
99
9.0
365.5
 
6
Takumi Jackson
2
L4
W14
D7
D8
W11
3.0
99
7.5
163.0
 
7
Brian Lin
2
W12
L1
D6
W9
L5
2.5
100
8.5
388.5
 
8
Jeremiah Lam
2
L1
D12
W13
D6
D10
2.5
100
6.5
267.0
 
9
Gavin Ge
2
L3
W10
D4
L7
W12
2.5
99
6.5
249.5
 
10
Patrick Wang
2
L11
L9
W14
W13
D8
2.5
99
5.5
106.0
 
11
Daniel Brown
2
W10
L3
L12
W14
L6
2.0
100
7.0
198.0
 
12
Noah Akasaka
2
L7
D8
W11
L4
L9
1.5
100
5.0
226.5
 
13
Phoebe Wu
2
H---
L5
L8
L10
D14
1.0
100
2.5
158.0
 
14
Sabrina Wood
2
L2
L6
L10
L11
D13
0.5
100
0.5
248.0
 
 
 
 
 
 
 
 
 
 
 
 
 
 
 
 
 
 
 
 
 
 
 
 
 
 
 
Standings. 2015 Kiwanis Scholastic Tournament: Grade 3 
 
 
 
 
 
 
 
 
#
Name
Grd
Rd 1
Rd 2
Rd 3
Rd 4
Rd 5
Tot
TBrk[H]
TBrk[C]
TBrk[P]
 
1
Jia Yi [Becky] Shi
3
W7
W12
W3
W2
W5
5.0
100
15.0
128.0
Grade 3 - 1st
2
Andy Guo
3
W5
W4
W8
L1
W9
4.0
100
13.0
112.0
Grade 3 - 2nd
3
Garrison Wu
3
W14
W10
L1
W9
W4
4.0
100
12.0
96.0
Grade 3 - 3rd
4
Philip Wu
3
W11
L2
W14
W6
L3
3.0
100
10.0
112.0
 
5
Marty Bajarunas
3
L2
W11
W10
W15
L1
3.0
100
9.0
128.0
 
6
Robert Fisher
3
L12
W7
W13
L4
W15
3.0
99
8.0
32.0
 
7
Liam Bomford-Moore
3
L1
L6
W11
W10
W12
3.0
99
6.0
96.0
 
8
Marcus Chan
3
W16
D13
L2
L12
W14
2.5
100
8.0
48.0
 
9
Jordan Chan
3
D13
D15
W12
L3
L2
2.0
100
7.5
96.0
 
10
Keenan Fok
3
W15
L3
L5
L7
W16
2.0
100
6.0
80.0
 
11
Finley Dixon
3
L4
L5
L7
W16
W13
2.0
100
3.0
48.0
 
12
Laurence Xie
3
W6
L1
L9
W8
L7
2.0
99
7.0
112.0
 
13
Svea Silver
3
D9
D8
L6
D14
L11
1.5
100
5.5
16.0
 
14
Alexander Desantis
3
L3
W16
L4
D13
L8
1.5
100
5.0
64.0
 
15
Isaac Zhao
3
L10
D9
W16
L5
L6
1.5
100
5.0
32.0
 
16
Bella Wood
3
L8
L14
L15
L11
L10
0.0
100
0.0
0.0
 
 
 
 
 
 
 
 
 
 
 
 
 
 
 
 
 
 
 
 
 
 
 
 
 
 
 
Standings. 2015 Kiwanis Scholastic Tournament: Grade 4 
 
 
 
 
 
 
 
 
#
Name
Grd
Rd 1
Rd 2
Rd 3
Rd 4
Rd 5
Tot
TBrk[H]
TBrk[C]
TBrk[P]
 
1
Jerry Wang
4
W2
W8
W7
W3
W4
5.0
100
15.0
657.0
Grade 4 - 1st
2
Thomas Suson
4
L1
L5
W10
W6
W3
3.0
100
6.0
465.0
Grade 4 - 2nd
3
Joshua Fok
4
W7
W9
W4
L1
L2
3.0
99
12.0
711.5
Grade 4 - 3rd
4
Henry Yang
4
W10
W6
L3
W5
L1
3.0
99
11.0
465.0
 
5
Kevin Ding
4
L9
W2
W8
L4
D7
2.5
100
7.5
668.5
 
6
Chloe Lin
4
W8
L4
D9
L2
W10
2.5
100
7.5
591.0
 
7
Andre Weng
4
L3
W10
L1
W9
D5
2.5
100
6.5
497.0
 
8
Roland Baker
4
L6
L1
L5
W10
W9
2.0
100
3.0
476.5
 
9
Gwendolyn Tang
4
W5
L3
D6
L7
L8
1.5
100
6.5
499.5
 
10
David Gilaev
4
L4
L7
L2
L8
L6
0.0
100
0.0
636.5
 
 
 
 
 
 
 
 
 
 
 
 
 
 
 
 
 
 
 
 
 
 
 
 
 
 
 
Standings. 2015 Kiwanis Scholastic Tournament: Grade 5 
 
 
 
 
 
 
 
 
#
Name
Grd
Rd 1
Rd 2
Rd 3
Rd 4
Rd 5
Tot
TBrk[H]
TBrk[C]
TBrk[P]
 
1
Alfred Chung
5
W5
W4
D2
W3
W6
4.5
100
13.5
412.5
Grade 5 - 1st
2
Josh Caedo
5
W6
W9
D1
W4
W3
4.5
100
13.5
402.0
Grade 5 - 2nd
3
Ethan Wong
5
B---
W7
W8
L1
L2
3.0
100
11.0
424.0
Grade 5 - 3rd
4
Ricky Ge
5
W9
L1
W7
L2
B---
3.0
100
8.0
442.5
 
5
Iris Min
5
L1
L6
B---
X8
W7
3.0
100
4.0
438.0
 
6
Dmitrijs Pidtikanijs
5
L2
W5
W9
L7
L1
2.0
99
7.0
401.0
 
7
Maggie Weng
5
W8
L3
L4
W6
L5
2.0
99
7.0
275.5
 
8
Isha Dau
5
L7
B---
L3
F5
U---
1.0
100
3.0
332.0
 
9
Alia Xu
5
L4
L2
L6
B---
U---
1.0
100
1.0
461.0
 
 
 
 
 
 
 
 
 
 
 
 
 
 
 
 
 
 
 
 
 
 
 
 
 
 
 
Standings. 2015 Kiwanis Scholastic Tournament: Grade 6 to 8 
 
 
 
 
 
 
 
#
Name
Grd
Rd 1
Rd 2
Rd 3
Rd 4
Rd 5
Tot
TBrk[H]
TBrk[C]
TBrk[P]
 
1
Franky Zhou
6
W3
D2
X6
W4
W5
4.5
100
12.0
441.5
Grade 6 to 8 - 1st
2
Manav Juthani
7
W5
D1
D3
X6
W4
4.0
100
10.5
447.5
Grade 6 to 8 - 2nd
3
Sebastian Villalba-Pereira
6
L1
W4
D2
W5
X6
3.5
100
7.5
472.5
Grade 6 to 8 - 3rd
4
Nolan Ingram
6
X6
L3
W5
L1
L2
2.0
100
7.0
529.0
 
5
Shoma Yoshida
7
L2
X6
L4
L3
L1
1.0
100
3.0
579.0
 
6
Stanley Chen
8
F4
F5
F1
F2
F3
0.0
100
0.0
0.0
 
---
Come out and play against others in your grade. Medals for First, Second and Third place finishers in each section (may be combined if sections are too small), including Kindergarten. Check-in at 9:30am – 10:00am.
Date: Saturday March 14, 2015
Time: 9:30am - 4:00pm
Location: Steveston Community Centre
Address: 4111 Moncton Street, Richmond, B.C. V7E 3A8
Admission & Parking: Free
Food: Free Light Lunch & Drinks for Players (parents not included)
Round Time (tentative, subject to change):
Check-in: 9:30am - 10:00am
Round 1: 10:15am -11:05am

Round 2: 11:05am -11:55am

Lunch: 11:55am - 12:30pm

Round 3: 12:30pm - 1:20pm
Round 4: 1:20pm - 2:10pm
Round 5: 2:10pm-3:00pm
Award Ceremony: 3:15pm-3:45pm
Players: Unrated or Rating under 800 (CMA, CFC or NWSRS, will be verified)
Regulation: Players with CMA, CFC or NWSRS rating above 800 are not eligible for prizes
Format:  5 Round Swiss.
Time Control:  20 minutes each side (40 minutes total game time)
Rating: CMA rated
Sections: K & Gd. 1, Gd. 2 & 3, Gd. 4 & 5, Gd.6 & 7, Gd. 8-12
Note: Parents/guardians are required to stay onsite to take care and provide support for your kid(s) between rounds
---
Rules
Bye request – Maximum 2 requested ½ point byes (except last round) at least ½ hour before the round starts

Forfeits wait time – 10 minutes grace period before the game is forfeited

Ties will be broken using tie-break systems (direct encounter, individual cumulative score, cumulative score of opponents)

Online registration only - for pre-pairing, onsite registration is NOT allowed.

Chess notation is optional but recommanded

Chess sets and clocks are provided

May use player's FIDE, CFC, CMA, NWSRS or foreign rating for pairing on

Tournament Director's (TD)

discretion
Players must inform the

Tournament Director

if s/he is not able to play in any round(s). Player not show up for any round without notice will be forfeited from the tournament, and requires a legitimate reason and

Tournament Director's

approval to re-enter the tournament